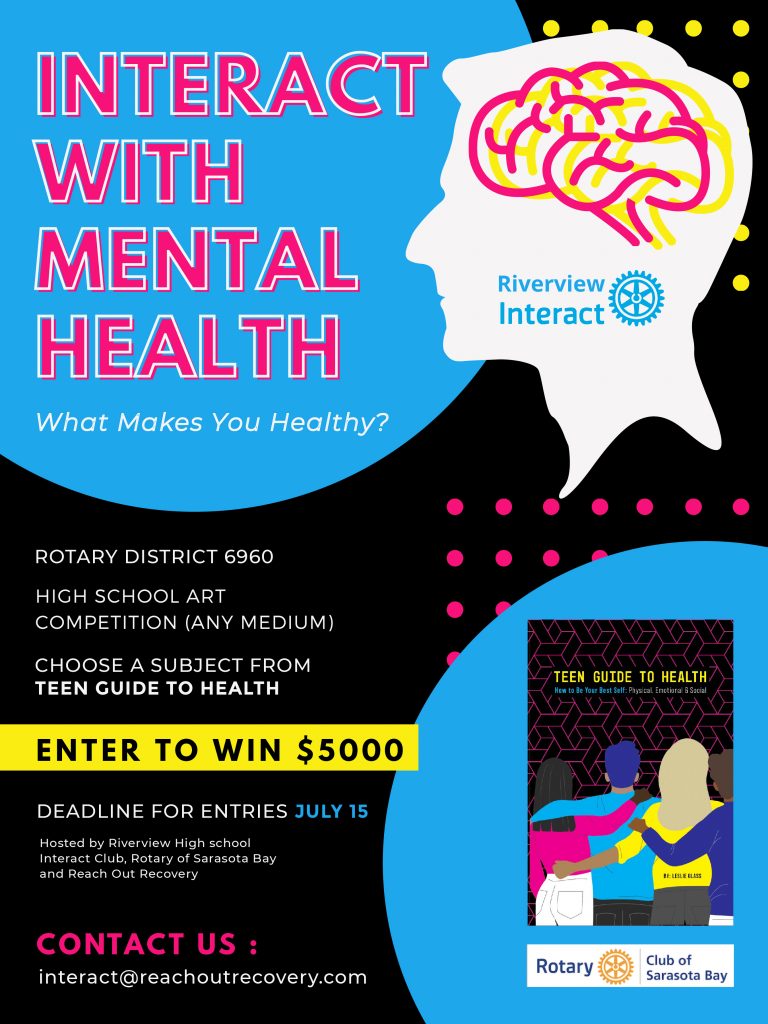 IF YOU HAVE ALREADY REGISTERED, YOU CAN SUBMIT YOUR ENTRY HERE.
Take The Riverview High School Interact Club Teen Mental Health Challenge To Win $5000
Rotary Interact Competition brings Florida teen creativity and teen voices to mental health messaging. Are you a high school student on the West Coast of Florida and want to win $5000 for your creative messaging around "What Makes You Healthy" from a subject in The Teen Guide To Health? Riverview High School Rotary Interact Club challenges you take on Mental Health to educate and save teens worldwide. And yes, you can.
Y

our Creativity Can Change The World. Really.
If you write prose, songs, poetry, make posters, art of any kind, creative cartoons, animations, TikTok or Youtube videos, you have a chance to spread the healthy teen message worldwide and win $5000.
A Virtual Challenge For Pandemic Times
There are 20,300 Rotary Interact Clubs in high schools in 159 countries. These clubs have been challenged during the Covid Pandemic to find projects to support their mission to help others. In Sarasota, Florida, the Interact Club at Riverview High School decided Mental Health would be its project this year. They are hosting this contest and inviting all students from the Rotary District 6960 to read The Teen Guide To Health, to enter the contest, and get creative about empowering their peers to make healthy lifestyle choices.
The Contest Sponsors
The Rotary Club of Sarasota Bay, sponsor of the Riverview Interact club, an Anonymous Donor (thank you a thousand times), Reach Out Recovery, and Terry Brackett, President of Rotary Club of Sarasota Bay are partnering to support this first student-driven Rotary project featuring Mental Health and Addiction Prevention. If you are interested in joining our efforts to save our teens, you can contribute through Rotary Club of Sarasota Bay Foundation, and join our sponsor list.
About The Teen Guide To Health
There are few resources for teens with actionable information about what makes them healthy: physically, emotionally and socially. To give teens worldwide the access they need to healthy living and decision making skills, we created a simple, easy to read roadmap. The goal is to help teens everywhere cope and thrive, no matter what difficulties and trauma they face now. The Teen Guide To Health was written by Leslie Glass, co-founder of Reach Out Recovery; author of 12 novels; winner of the American Society of Addiction Medicine (ASAM) 2016 Media Award; Documentary Producer and Director The Secret World of Recovery, (2012) the first documentary to reveal the other side of addiction, and the WEDU/PBS Teen Prevention special The Silent Majority (2014-15), distributed by American Public Television. For more information about Reach Out Recovery or the Teen Guide To Health: Contact: Leslie@reachoutrecovery.com
Rotary Interact Competition Rules and Guidelines
This competition is limited to the first 1000 entries, so register now to secure your place. You don't have to submit your project until July. The simple process is as follows.
First Register. Fill out our contest form with your information, including school and type of project you will submit. Your registration is your agreement to our terms and conditions. Registration is free, and your information will never be shared without your permission.
Get The Code. Upon registration, you will receive an email in the same screen with a codes for the book. If you choose the ebook, enter the code at checkout and receive your ebook free. If you want a physical copy of the book, your discounted price at checkout is $5, which includes shipping. Some of us want the book in our hands, and getting it will serve as a great and lasting souvenir.
Read The Book. The book is 124 pages in 12 chapters with very little text. This is first part of the fun part. Share what you're reading with your family and peers. You might well be learning new things you haven't considered before, like what exactly is mental health. Discuss amongst yourselves. This is the mental health mentoring part of the project. You can text, TikTok, Instagram or tweet about your progress. Have fun with it. Get people talking.
Choose Your Topic. You might be interested in girls and alcohol, or brain development, or marijuana, or healthy relationships. Or social media, what's healthy, what's not. Get creative. What is mental health and how do you get it? We can't throw out this question often enough. The answers are what Rotary Club of Sarasota Bay and Reach Out Recovery want all teens to know.
Submit Your Project. Starting June 1st you will be able to submit your project. We will give you updates and submission details in newsletters that you will receive by email. The deadline for submissions is July 15. If you are submitting a music or video project, get a YouTube account where you can upload your entry. It will later be displayed on the Reach Out Recovery Channel.
Be Sure To Label Your Entry Riverview Interact Competition 2021 with the title of your project so as not to confuse your submission with any other Interact Competition.
Take the Quiz. Yes, we're going to ask you a few questions. We want to know that you read the book, and further, what you learned that you didn't know before. Plus, would you recommend it. The quiz is part of the submission entry process.
Who is eligible
All students in High Schools in the Rotary District 6960. That is the West Coast of Florida.
How Many People Can Work Together
You can work and enter your project as a team. To work in a group, everyone must register and get a book. After you have registered as individuals, you can work as a team, or group, or an individual. We encourage you to work in teams of two or three to allow more participation and creativity, but it's totally up to you.
If you create a contest entry as a team, you can submit your project only once. Whoever is your team leader will submit your entry and the names of all participants must be attached. If you win as a team, your prize money will be divided equally among you.
Only One Entry Please
You can register only once and make only one submission with your registration. That means you can't enter in three categories to increase your chances of winning.
Hints On Submissions
Posters: 5 posters with a design theme and different messages (Think concept for an ad campaign)
Photography: 5 powerful photographs with titles that tell a story (also can be the basis of an print ad campaign)
Writing: Essay, Poem, Story (this submission is a document, but if you choose to perform your work, it will be judged as a video)
TikTok: Your messaging in 5 TikTok videos (Here humor might be the inspiration)
Videos: One single video of 2 minutes or less. This can be an original song an original rap performance, a drama, a musical, a commercial, a comedy skit, a flash dance with original song, anything with humans and sound.
Cartoon: Create new cartoon characters in a strip cartoon (they're teens?)
Animation: One animation of 30 – 90 seconds
First Prize: $5000
Two Runners Up Prizes: $1000
Who is Judging
The contest Panel of Judges include: Ed Cheetham Ringling College Department Head of Motion Design, Don Drandes, Ringling College Illustration Faculty, and Claudia Cumbie-Jones, Ringling head for Visual Studies. A writing judge will be included to this panel.
For help and questions Contact: REACHOUTRECOVERYMEDIA@GMAIL.COM
IF YOU HAVE ALREADY REGISTERED, YOU CAN SUBMIT YOUR ENTRY HERE.