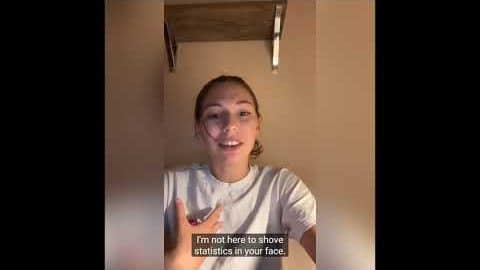 $9000 in Scholarship Awards For Best Positive Mental Health Messaging By And For Teens
It's fun, it's educational, and participating has already changed teen lives. Teens say they learned a lot and put their experience in teen mentoring on their college applications.
The High School Art/Media Contest 2023 Is Now Open
See the results from last year's contest and spread the word to high school students in FL.
What Is The Contest All About
The contest brings wellness and health education, art and scholarship awards together. It's a great opportunity for students to learn about health and create art and media to mentor other teens about how to be healthy and safe. All high school students are eligible to enter beginning January 15, 2023. Students register, read The Teen Guide To Health, choose a subject from the book that interests them, create an art or media project and submit to the contest to win.
Opens January 15, 2023 Deadline for Submissions July 31, 2023
Teen Art/Media Contest Rules and Guidelines For 2023
1. First Register.
2. Read Teen Guide To Health: How To Be Your Best Self: Physical, Emotional & Social
You will receive the eBook with your registration, or you can get a free book from a participating school program. You don't need to be in a program to enter. Teen Guide To Health is 148 pages in 12 chapters with very little text. This is first part of the fun part. Share what you're reading with your family and peers. You might well be learning new things you haven't considered before, like what exactly is mental health. Discuss amongst yourselves. This is the mental health mentoring part of the project. You can text, TikTok, Instagram or tweet about your progress. Have fun with it. Get people talking. Even your teachers will learn new things.
3. Choose Your Topic.
You might be interested in girls and alcohol, or brain development, or marijuana, or healthy relationships. Or social media, what's healthy, what's not. Get creative. What is mental health and how do you get it? We can't throw out this question often enough. The answers are what Rotary District 6960, Rotary Club of Sarasota Bay, Rotary Club of Sarasota Sunrise and Reach Out Recovery want all teens to know.
4. Submit Your Project.
Can submit your project any time. The deadline for submissions is July 31,2023. If you are submitting a music or video project, get a YouTube account where you can upload your entry. It will later be displayed on the Reach Out Recovery Channel.
Be Sure To Label Your Entry With The Title Of Your Project
Take the Quiz. Yes, we're going to ask you a few questions. We want to know that you read the book, and further, what you learned that you didn't know before. Plus, would you recommend it. The quiz is part of the submission entry process.
Who is eligible
All students in High Schools on the West Coast of Florida.
How Many People Can Work Together
You can work and enter your project as a team. To work in a group, everyone must register and get a book. After you have registered as individuals, you can work as a team, or group, or an individual. We encourage you to work in teams of two or three to allow more participation and creativity, but it's totally up to you.
If you create a contest entry as a team, you can submit your project only once. Whoever is your team leader will submit your entry and the names of all participants must be attached. If you win as a team, your prize money will be divided equally among you.
Hints On Submissions
Poster
Photography: 5 powerful photographs with titles that tell a story (also can be the basis of an print ad campaign)
Writing: Essay, Poem, Story (this submission is a document, but if you choose to perform your work, it will be judged as a video)
TikTok: Your messaging in a TikTok video (Here humor might be the inspiration)
Videos: One single video of 1.5 minutes or less. This can be an original song an original rap performance, a drama, a musical, a commercial, a comedy skit, a flash dance with original song, anything with humans and sound.
Cartoon: Create new cartoon characters in a strip cartoon (they're teens?)
Animation: One animation of 30 – 90 seconds
The Contest Sponsors
The Rotary Club of Sarasota Bay Foundation, Rotary Club of Sarasota Bay, Rotary District 6960, Rotary Club of Sarasota Sunrise, ROR Empowerment, and Reach Out Recovery are partnering to support this teen mental health initiative. If you are interested in joining our efforts to save our teens, contact us to become a sponsor and join our sponsor list.
On December 4, 2022 6 High School Students Shared $8500 in Scholarship Prizes For Best Positive Mental Health Messaging By And For Teens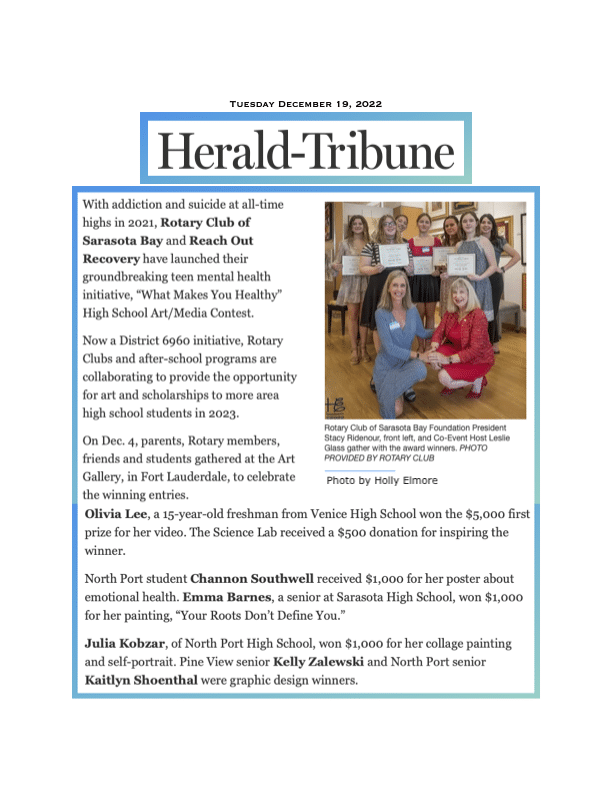 2022 First Prize Winner is Olivia Lee from Venice High School.
2022 Poster Winners
Graphic Design Winners
2022 Sponsors
Reach Out Recovery, ROR Empowerment, The Rotary Club of Sarasota Bay Foundation, Rotary Club of Sarasota Bay, an Anonymous Donor, Kent And Joanne Simons, Rotary Club of Sarasota Sunrise, Rotary Sarasota Downton Club, Art Avenue,
Teen Art/Media Contest Rules and Guidelines For 2023
Opens January 15, 2023 Deadline for Submissions July 31, 2023
For help and questions Contact: [email protected]