Recovery Gifts By Women For Women –

It's time to send a positive message of recovery to battle the onslaught of negative news we're always hearing about the addiction epidemic. With 23 million people in recovery, and some 23 million struggling with addiction, it's vital for those of us in recovery to show pride in our lives on the other side of addiction. No one should have to feel alone when taking the step to recovery.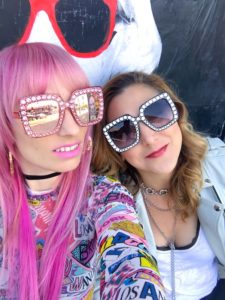 A few years ago, an miracle occurred. I was secretary of a meeting when a cool-looking chick in red disco pants, a black leather jacket, and waist length black hair arrived. Now she has pink hair, FYI.
Marisa Ravel, who is a fashion designer and unmistakable with any hair color, and I became fast friends. Marisa wanted to do something for the addiction recovery and mental health movement because of her own recovery and experiences, and I'd been a recovery advocate on and off for almost a decade. Very quickly we came up with the idea for Angels N' Roses and Marisa designed our first round of enamel pins now in the ROR Shop.
The Addiction Epidemic Needs Hope and Pride As Part Of The Solution
Addiction among young and old people has gotten worse, not better since my days out there. The feeling of hopelessness and helplessness is even more defeating for millions of suffering families. Absolutely no person who goes into recovery should feel alone. Marisa and I wanted to do something to help those in recovery to show their pride, celebrate the people they love in recovery, and look cool while doing it. We want to bring recovery to the mainstream.
"It's important to us to show there are as many sober people, as there those still suffering. Some 23 million people are in some form of recovery."
We designed a line of pins that represent our own experience in recovery. For example, our sober sisters pin sets honor our friendship because who else but your sober sisters always has your back? The HALT pin reminds us that we always need to be paying attention to how we're feeling. Pins like Stick With the Winners and The Pink Cloud Don't Go are also great reminders of how we live our life today and that we can feel our feelings and still survive.
Please join us and follow us on this new chapter of recovery. Marisa and I could not be more excited about bringing our message of friendship and support to everyone that is touched by an issue and needs to feel like they are not alone.
These gorgeous pins are available in our ROR Shop. To order pins for your entire group, call 941-366-0870. We'll help a sister out with a group discount.
Comments