Recovery Literacy Can Restore Family Harmony

Recovery literacy has been shown to improve relationships in families coping with substance use disorder (addiction). Living with addiction and family dysfunction are unmanageable. Relationships fall apart and dysfunction worsens. Without recovery, we often have no peace and no solutions to restore family harmony. Recovery brings solution to hopeless situations.  The recovery activity book provides understanding and peace at home and on the go.
Recovery literacy is the new language that eases the stress
Addiction is a family disease that affects generations long after the substance abuse has stopped. When one member of the family suffers, everyone hurts. Recovery is also for the husbands, wives, children, parents, siblings, partners, grandparents, and friends. Recovery literacy helps translate the new recovery lifestyle into terms the entire family can understand. The Recovery activity book is fun for the whole family and an easy way to learn recovery principles.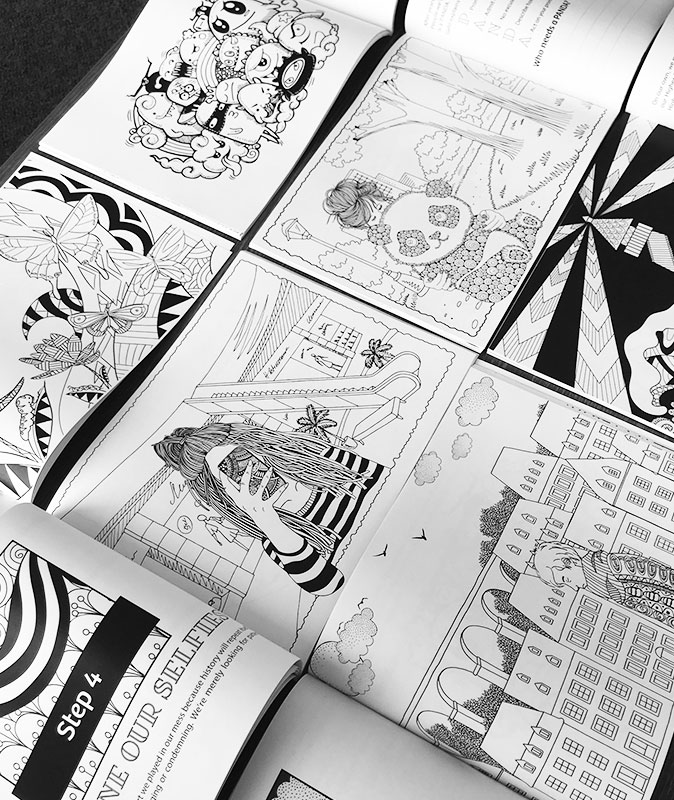 Art aids recovery literacy
Most treatment programs include 12 step principles in group settings and journaling for self awareness. Many programs also include coloring pleasant scenes or mandalas for peace and serenity. This activity book blends all three tools together.
According to the American Art Therapy Association, art therapy is a mental health profession in which the process of making and creating artwork is used to "explore feelings, reconcile emotional conflicts, foster self-awareness, manage behavior and addictions, develop social skills, improve reality orientation, reduce anxiety and increase self-esteem." So basically, it's similar to good old therapy. Yet art therapy is not only about learning and improving yourself — it's a means of personal expression, too."
Find Your True Colors has 70 pages of soothing coloring and reflection. These scenes are perfect for people who desperately need safe, enjoyable, and convenient activities to keep their minds occupied and thinking about recovery, not relapse.
Following the steps with coloring helps process recovery lessons using principles that promote growth and healing. We've also included popular recovery tools and slogans.
Journaling thoughts and feelings promotes self expression.
This book teaches recovery literacy. The whole family can learn a safer way to talk about tense subjects.
Click here to order your copy today!
For those who want to order a set for your entire group, we do offer a group discount. Give us a call to learn more: 941.366.0870.
---
Comments