Rotary healthy teens art/media competition launches unique addiction prevention initiative from Sarasota, Florida. By teens and for teens, this local project opens the door to teen voices for mental health mentoring and change. Do you know what makes you healthy? That's the challenge of this Rotary Interact Competition. The contest is open to all high school students in Rotary District 6960.
Here's how the Rotary healthy teens contest came about. Mental health for teens worldwide has declined in the yearlong Covid 19 lockdown. The 20,300 Rotary Interact Clubs in high schools worldwide have been challenged to fulfill their mission of helping others, and mental health concerns them all. Riverview High School students inspired by Reach Out Recovery's The Teen Guide To Health chose a virtual project, an art competition, to bring student voices to mental health education. Launching on March 15, 2021 the deadline for entries is July 15, 2021; and the panel of judges includes three Ringling College of Art Faculty Members.
The first student-driven mental health project is funded by Rotary Club of Sarasota Bay partnering with Reach Out Recovery
The theme of this first high school art/media competition contest is, surprise, What Makes You Healthy. High School students read Reach Out Recovery's Teen Guide To Health and create positive messaging related to subjects in the book in any media they choose. First prize is $5000. The contest is hosted by Riverview High School Interact Club and funded by the club's sponsor, Rotary Club of Sarasota Bay, partnering with Reach Out Recovery.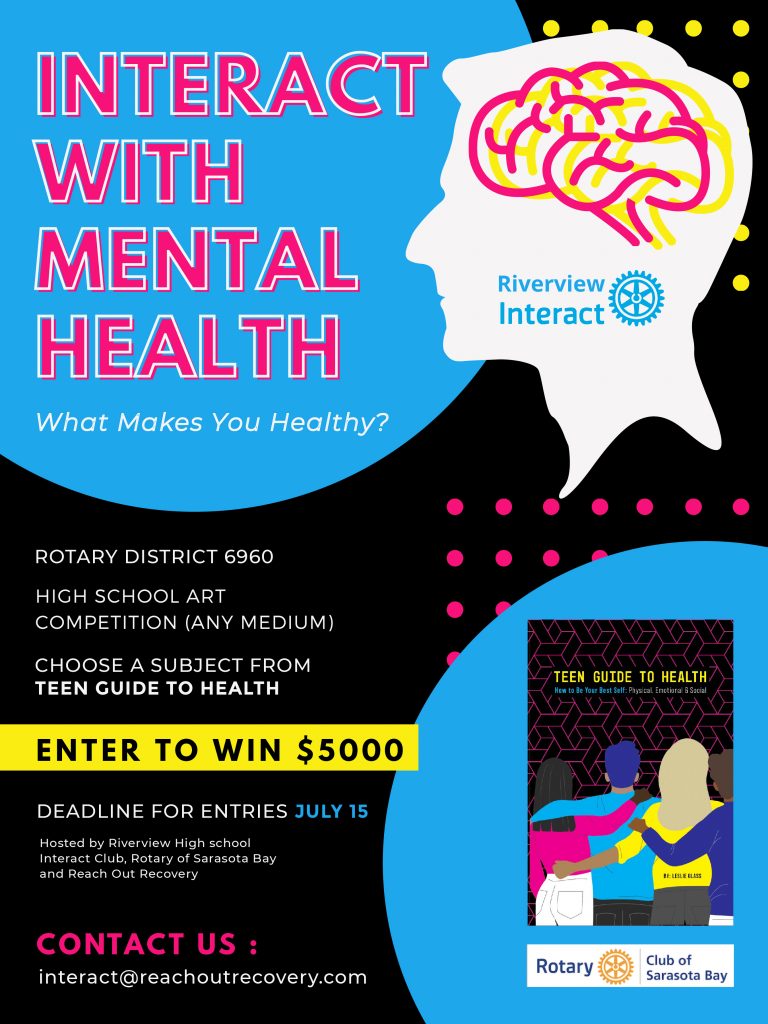 Interact Clubs need virtual solutions and teens everywhere need a roadmap for wellness and healthy living
Most teens do not know the simple facts of mental health that can keep them healthy and safe, how to ask for help, and what it takes to survive no matter what their circumstances may be right now. Life skills and emotional wellness are easy to learn as long as teens have access to tools and information. Like riding a bike or learning to read, life skills once learned are never forgotten. Empowering teens to make healthy lifestyle decisions is the best investment we will ever make.
Donate to Rotary Club of Sarasota Bay Foundation to become a sponsor.
Contact us: [email protected]