Anxiety is a pain in the ass but it shouldn't impair your life
Anxiety is common! According to NIMH (National Institute of Mental Health):
An estimated 19.1% of U.S. adults had any anxiety disorder in the past year.
Past year prevalence of any anxiety disorder was higher for females (23.4%) than for males (14.3%)
So, first, know that you are not alone. Many adults are struggling and many more are struggling in silence. Second, there are many activities to try that can and will help with your anxiety. Now, it may seem too daunting a task if you are feeling too scared to go out. That's a really common worry with the Pandemic years still with us. Or maybe you worry about work or relationships? What are the top ten things that keep you on edge? Can you identify your problems and triggers, or are they all vague weights and burdens? You may wonder what is an anxiety disorder. Sleeping on problems and ignoring them, however, or staying awake worrying doesn't fix what's plaguing you.
If you want to get rid of anxiety as your constant companion, we've got some tips for you. Try them out and see what works for you. Remember, mental health is personal! What works for some doesn't work for all so don't be afraid to try different things.
Counseling is always a good first step to calm your anxiety
You don't need a formal diagnosis to know you're struggling with anxiety. We all cope with overwhelming worries at one point or another in our lives. Often anxiety can lead to real panic attacks that are crippling. So what do you do about it? We always turn to professionals to give us advice and treatment. Anxiety counseling will give you the tools you need to identify your triggers, recover from severe anxiety, panic attacks, and all the accompanying symptoms you are experiencing.
Cut down on the caffeine
Caffeine is a central nervous system stimulant to help you stay active and alert. While it can be helpful if you're trying to focus on a specific task, it might not help if you're prone to having anxiety attacks.
If you know you frequently get anxiety attacks, you should avoid consuming caffeine during the day to lessen your episodes. If you'd like to start your morning by having a cup of coffee, you may want to go for a decaffeinated one instead.
Push the pause button
Did you know that you can calm your anxiety by hitting your mental pause button? When you're feeling that something is out of control, you can learn to stop and take a mental break. How can you calm your racing thoughts? Here are some ways to pause. If you can go outside, take a short walk. If you can't go outside, go into another room. Change what you're looking at. If you can't do those thing, take a moment of meditation. Close your eyes and imagine your favorite place of peace. You can learn to stop and take a mental break.
Collect distractions to calm your anxiety
There are so many distraction you can use. Distractions to cope with anxiety exist in every culture. Worry beads, rosaries to pray, worry stones to hold in your hand, prayer beads have been calming anxiety and worry since the beginning of time. Sometimes it's hard to read a book or knit or paint a picture or do the things that bring joy. Maybe you're stuck some place where pleasure is not possible. Use the old techniques. If you can't watch a movie, or your favorite TV show, and you can't get to the beach or the mountains, or even listen to music, you can always squeeze a stress ball, or play with a fidget spinner. This could help you bring your thoughts back to the present. We love puzzles, too.
Practice Breathing
Breathing always works to calm anxiety. This can be part of the pause button tip. Breathing is another age old practice developed in yoga for slowing the heart and focusing on calm. Inhale through your nose, hold your breath for a few seconds, and slowly release the air through your mouth.
There are specific breathing techniques you could try such as the 4-7-8 technique. This kind of breathing technique works to help you fall asleep, too. Military personnel uses this technique to help them fall asleep.
Focus on the present to calm your anxiety
This practice is also called mindfulness. What's happening now? What can you enjoy or notice, or feel, that's positive? When you focus on what you can do right now, you ease the stress of worrying about the future and all the things you can't change. Sometimes, the only thing you can do is to find peace while you're waiting. What you can do to cope is to focus on the present and enjoy every passing minute possible. Think about the things you are thankful for. Fill your thoughts with positivity and try to redirect your attention. Keep them away from things you can't control.
Journal to find out what your triggers are
If you're having trouble identifying the source of your anxiety, writing can help. Journaling is another age old practice people have been using for centuries to explore their feelings in a safe way. Try journaling when you're feeling stressed or having an anxiety attack. Many people start the day with a few lines in their journal, or at the end of the day to track what happened and how they felt about. You can also track the number of hours of sleep you had, what kind of food you consumed within the day, and what thoughts are running in your head.
As days go by and you continuously write journal entries, you can further identify and investigate what might be causing your anxiety and look for ways to avoid them.
Talk To Someone in your support group
Tell someone, share your thoughts and feelings with someone you trust. That person may not be a family member, and it may not be a professional. In recovery, we know that having a support system and support group of people is crucial to maintaining balance and peace. That means having other people you can call when you need to talk. And even if you think you don't need someone, or are afraid of speaking up about your worries, talking can save your life. Literally. You can talk to people in a group or in therapy. Look for someone to whom you can genuinely open up, who can really listen without judgments. Practice all these tips and you have a toolbox to calm yourself whenever things get out of hand.
Check out my book 100
Tips For Growing Up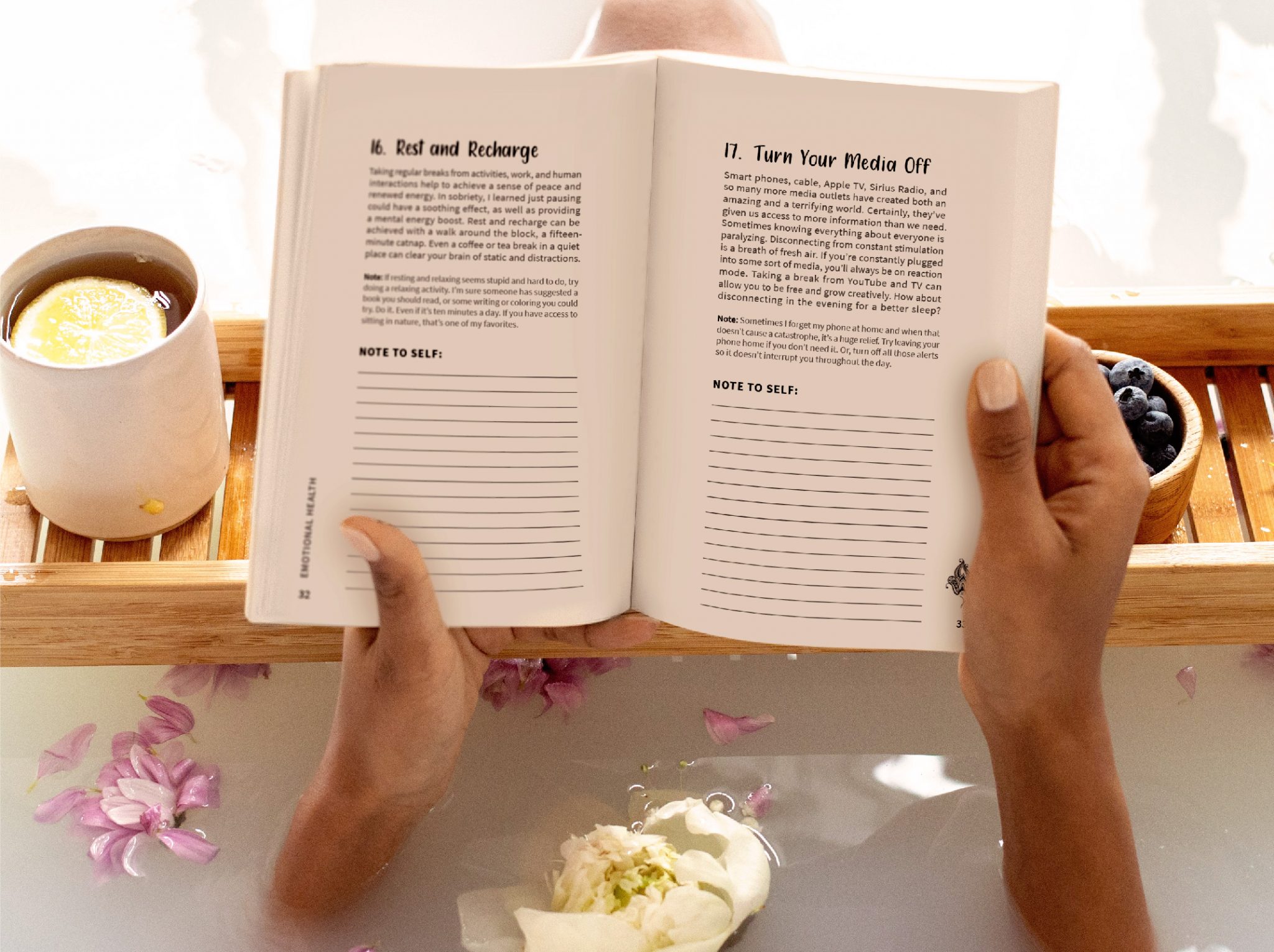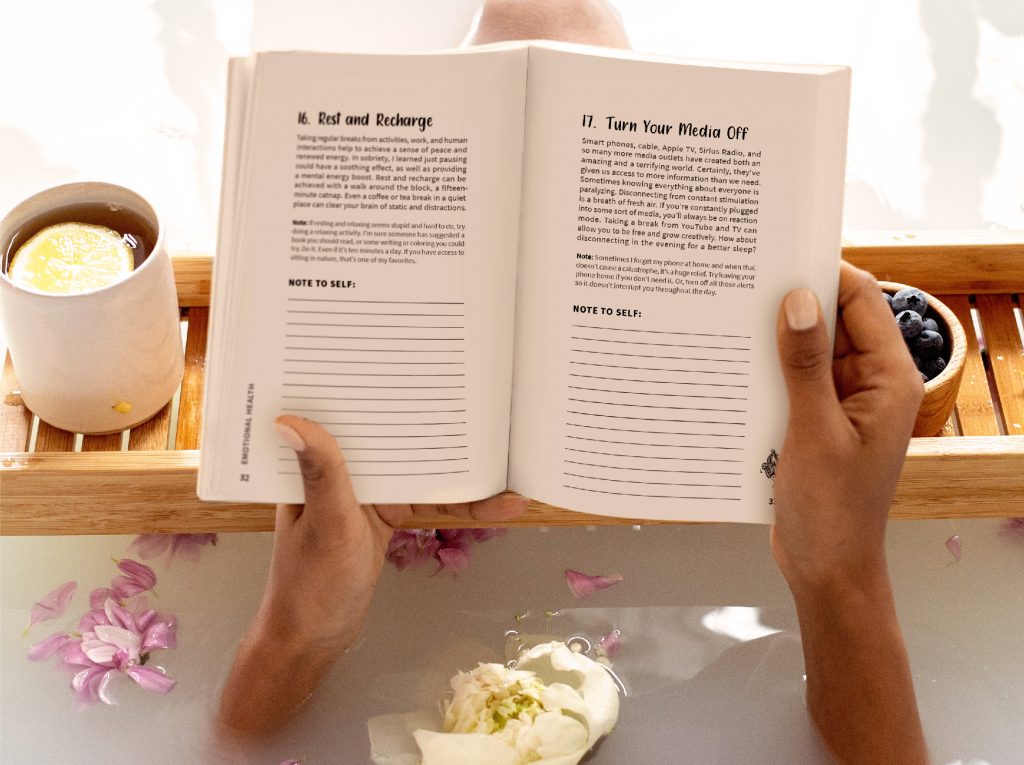 Take this test from Psychology Today to see if you engage in any self-sabotaging behavior.
Follow us on Instagram
Like us on Facebook
Comment on our posts