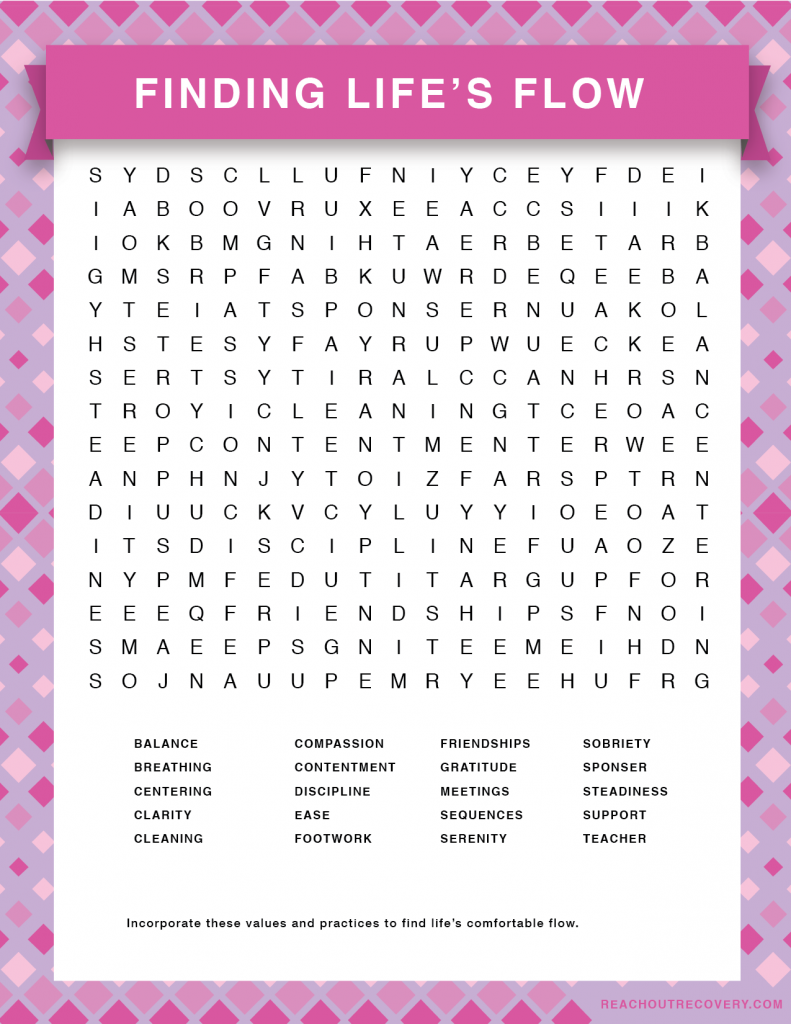 Click the download button to print and see how many recovery words you can find in the Finding Your Life's Flow word search.
The answer key is at the bottom of this page.
The following paragraphs are excerpts from Kyczy Hawk's book, Life in Bite-Sized Morsels:
It starts off small, a little wanting, a little attraction, and then a desire just this side of obsession. That is how it began for me.
My watchband had lost its loops, and the end of the strap kept flapping. It still functioned, but it was annoying. Then the band got a little tear. I was relieved. That meant the watchband was beginning to break, and I was in danger of losing the watch. Now I had a reason (and an excuse) to look for a replacement. This was where the trouble began.
Looking for bands brought me to the watch department, which presented a challenge. Nice watchbands cost $25 and above, but a new watch with band could be purchased for less than $20. What to do? The thrift of purchasing a new watch beckoned me. As I perused the cases, I became attracted to the dome-y crystal faces, the colors of the bezels, the feel of the weight, the variety of colors. Soon my wandering eyes had left the case of watchbands entirely, and I had strayed well away from the $20 watches into the land of absurdity.
Luckily, the high prices splashed like cold water on my face, the original mission became re-established, and I moved back to the first counter: Watchbands!
And money
I deliberated price: Is my mission to strap a low-cost timepiece to my arm, to get a watchband, or to save money? Do I buy a watchband that costs more than a new watch and, by paying more, take a stand and refuse to add to the waste produced on this planet by reusing my workable watch? Or do I economize and get a new, sparkly watch to save the five dollars? Am I saving money, or the planet? Or do I need to save my mind? Yikes!…
…A lot of energy for just a watchband—but it is the way I process things. I go this way and that, breaking old patterns of thought and behavior, trying on different ideas to find the medium way. What comes first? Environment, or desire for the new and shiny? Thrift, or environment? Replace, or repair? What am I feeling? What are my enduring values? Where is my breath?
So what happened? I found the perfect band: not fancy, not elaborate—just like my yoga practice—but functional and just right for me. And it is purple! That was my playful indulgence…choosing a purple band. And I am best pleased. The trip, the process of discovery, was worth it.