Wondering how to get sober? Maybe you've been considering quitting drinking for a while, but now you're ready to take the first step. Getting sober is both a physical change and a psychological one. You know that already, right? Your body will continue to crave alcohol for quite some time, and your brain will keep telling you what a good friend alcohol is even if it's been your worst enemy for years. Alcohol is still the king of addictions, so if you're having trouble with it, you're not alone. But we stopped, so you can, too. Remember, you don't have to have a drinking problem to want to get sober. Alcohol is a toxin that impacts both your health and your behavior. There's nothing healthy about drinking too much.
Still, it's the drink of choice for millions. In fact, one in every seven adults has a drinking problem. We know there are so many temptations to drink and to keep drinking that it's hard to imagine what life might be like sober. We're here to say, it's worth the effort. Here's how to get sober.
Awareness is the first step
Most people have some bad experiences before they decide to get sober. They may have been arrested, lost a job, or a relationship, missed too many Mondays at work, or are just not at the top of their game because they'd rather be drinking. They may secretly wonder if they are a problem drinker, or loved ones tell they they do. Here are ten questions that can help clarify your relationship with alcohol. How do you score?
Do I think I have a problem with alcohol?
Have I thought about quitting? How often?
Do I wake up ashamed/guilty for drinking the night before?
How long have I gone without drinking?
Do I have a STOP button, or do I keep going?
Can I stop after one drink?
Do I have the urge to look for more alcohol after finishing a whole bottle of wine or a few beers at home?
Am I angry or agitated if I choose not to drink for more than one day?
Do I look for reasons to drink or make up stories to justify drinking?
Do I feel the need to sneak drinks or hide my drinking?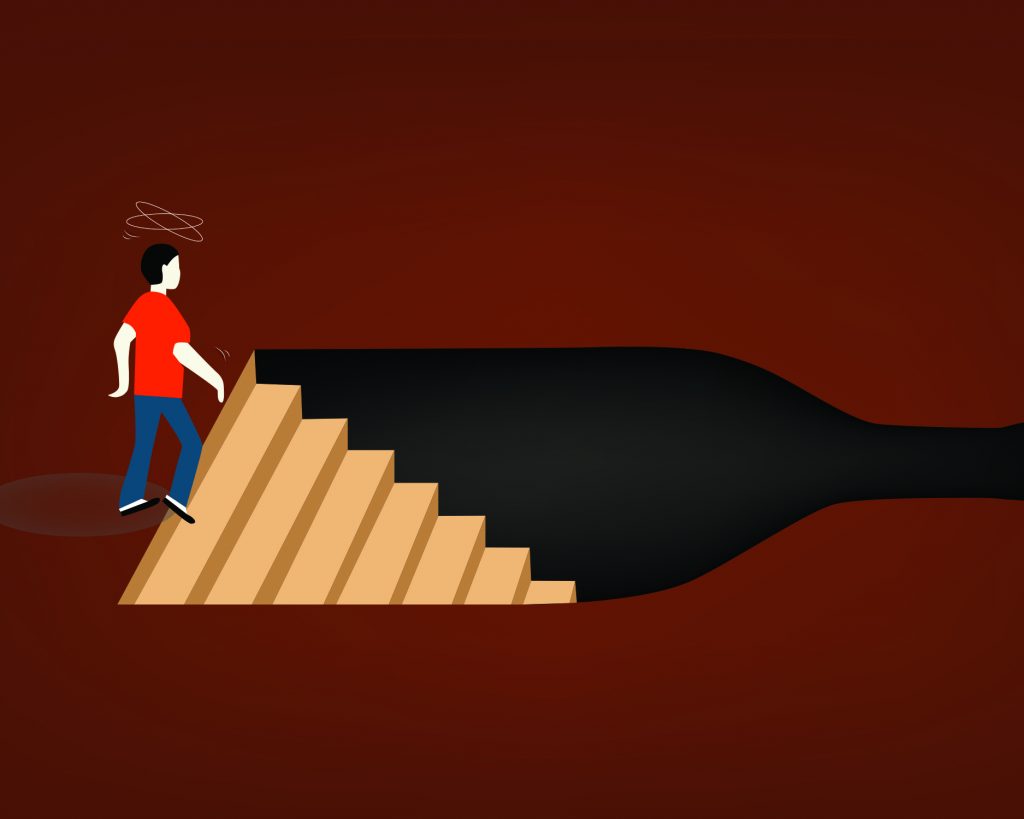 Acceptance is the next step to recovery
A thousand and one people can tell you you have a drinking problem. You may even know it yourself, but until you accept that it's real and pressing and, most important, crucial to you, taking action will be hard. Did you know there are seven stages of drinking. What is yours? There is a formal test for this. "Do I have a drinking problem?" Which you can find and take at 12step.com, or aa.org.
Acceptance leads to Action
Denial has probably kept you back for some time, but now you're aware and in a state of at least partial acceptance that alcohol is not your friend. What now? First, if you shake when you wake up, you sweat and have other withdrawal symptoms when you don't drink or use every day, it could be very dangerous to quit cold turkey. This is true with many substances. You know what drug sick is, right. If you have withdrawal symptoms, check with a doctor for detox options. Don't try to quit cold turkey.
Talk to a trusted friend or professional
There are plenty of one-chip wonders in the world. These are people who have decided for one reason or another that they have to stop drinking and using, and they do. These are the people who join NA or AA or Smart Recovery and create the sober support group they need to make a recovery plan and stick with it.
But the vast majority of people wanting to get sober need more. It's always best to seek an addiction professional for evaluation to determine your needs. You may need detox of 3 to 10 days, then an intensive outpatient program for weeks, months, or even years. You may need dual diagnosis treatment. That's when you use substances and also have a mental illness, like depression. You may need many different kinds of treatment and support along your recovery journey. Connect with people who can help and stay connected. We know you can do it.
I'm ready to get sober
Getting sober is the turning point for people who have had alcohol or drug disorders. There's no better time to get sober than right now. There's a sober curious movement that can help give you the words and empowerment to take action. More people are replacing the happy hour with the healthy life.